Vegetable and Shrimp Tempura (for beginners)
Crispy, lightly battered vegetable and shrimp tempura is a real treat. And easier than you think when you get the hang of it.
Use a variety of vegetables or just one and serve as an appetizer or main dish.
I get a craving for Vegetable and Shrimp Tempura every once in a while. I try to stay away from making fried foods, not because they aren't delicious, but because I hate the oil mess and frying smell and, yes, they're not exactly light.
As fried foods go, though, tempura is pretty OK in my book. Light, airy, thin, crispy batter on healthy vegetables and shrimp (vegetarians of course will omit the shrimp), dipped in a salty tempura sauce – not just OK – scrumptious!
I won't lie, there is a bit of technique involved in this tempura recipe, but once you get the hang of it after a couple of tries, it's not daunting at all.
Serving suggestions
To continue with the Asian theme, serve the vegetable and shrimp tempura with Vegetable Summer Rolls (which also includes how-to tips).
Tempura is best right out of the frying pan, so consider an informal gathering in your kitchen as you cook the batches, serving your guests or family one batch at a time. But don't stress about the timing. It will hold up fine to serve as an appetizer, too, in the living room.
For a dinner party, I keep it simple and just make tempura asparagus, for example. Or shrimp. A real treat!
Tips for How To Make Tempura
There are three important tips for success:
All the vegetable and shrimp ingredients must be prepped and laid out ready to go;
The tempura batter for dipping must remain cold throughout the process; and
The oil must be at the right temperature to ensure crispiness and avoid absorbing the oil into the food. Ideally, you should use a thermometer to measure the temperature of the oil. If you don't have one, two other options are provided in the recipe.
Tailor To Your Taste
You can use ready-made tempura batter available in any Asian supermarket or make your own. I've done both and they both work well.
If you like your batter a little thicker, you can add a bit of extra flour.
Experiment with the vegetables that you like and work best for you. I love peppers, asparagus, green beans and eggplant. My husband loves sweet potatoes and shrimp.
Other Asian food recipes you might like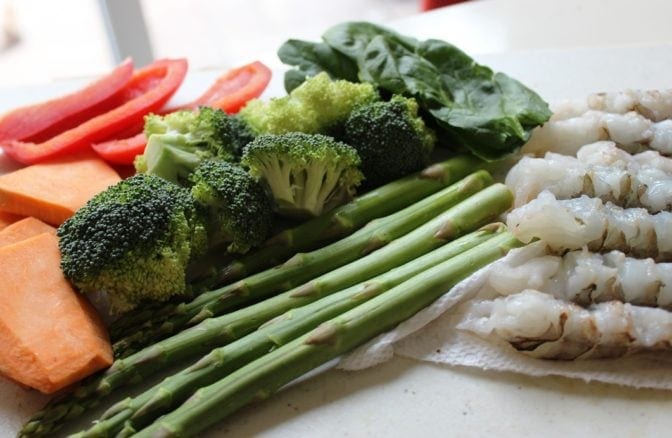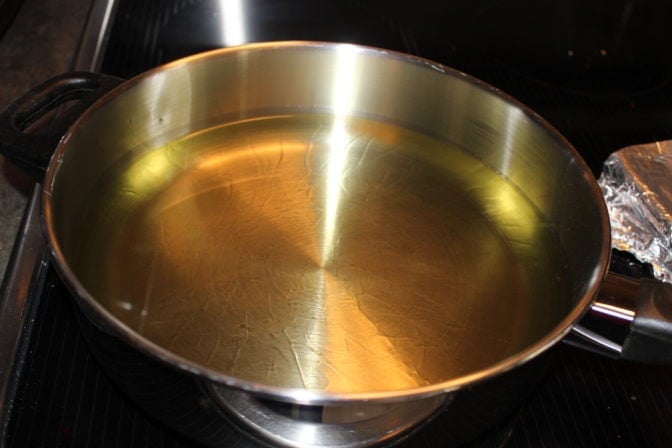 Vegetable and Shrimp Tempura (for beginners)
Crispy, lightly battered vegetable and shrimp tempura is a real treat. And easier than you think when you get the hang of it. Use a variety of vegetables or just one and serve as an appetizer or main dish.
Equipment
thermometer to measure temperature of oil
Ingredients
vegetables, cut into serving pieces (e.g. pepper, asparagus, zucchini, green beans, broccoli, sweet potato 1/4 inch thick)

large shrimp (16-20 count), peeled, deveined

vegetable oil

Tempura batter mix (or make your own -see instructions below)

about 2 tablespoons of flour, for dredging shrimp

tempura sauce (buy this or make your own)
Equipment
bowl filled with two inches of ice and water (large enough to place batter bowl on top)

tongs

frying pan (about 10-12 inches) with deep sides
Instructions
PREPARING THE INGREDIENTS: Make 3-4 slits on the underside of each shrimp without cutting all the way through. This will allow them to lay flat. Prepare all vegetables you are using, laying them on a plate or cutting board with the shrimp. Lightly dredge shrimp in the flour IF you want a slightly thicker coating on the shrimp.

HEATING THE OIL: The right temperature is very important in this recipe. Heat 2 inches of oil in the frying pan to 350F-360F. If you don't have a thermometer, use one of these tests to ensure the right temperature. 1) put a drop of batter into the hot oil. If it sinks, then floats to the top immediately, sizzling, the oil is ready. 2) put a popcorn kernel in the oil. When the kernel pops, the oil has reached the right temperature.

MAKING THE BATTER: Mix the tempura batter according to package directions in a bowl that will be able to lie on the ice water bowl. DO NOT mix well. Batter should be lumpy and not thick. Note 1 - to make your own batter. Place the tempura batter bowl on top of the ice and water bowl. The batter must be kept very cold to ensure a crispy coating when frying. If batter is too thin, add a bit more flour.

FRYING: Start with the vegetables like peppers, beans and sweet potatoes first. One at a time, use tongs (I use my fingers) to dip each piece of vegetable in batter and place in hot oil. Don't crowd the pan. Do only 5-6 pieces at once, depending on the size of the pan. Separate the pieces so they don't stick together. Fry for a few minutes, gently turning once. Remove to a plate lined with a paper towel to absorb the oil.

Bring oil back to 350-360F. Remove any floating batter from the oil with a slotted spoon. Repeat with asparagus, broccoli or zucchini. These will only need about 2 minutes.

Again, allow oil to return to the right temperature, then repeat with the shrimp. You can sprinkle on some extra batter over the shrimp to add an additional lacy layer (this can be messy though!).

PLATING: Arrange the vegetables and shrimp on a plate (or individual plates) in a nice arrangement and serve with tempura sauce.
Recipe Notes
Make your own tempura batter: Mix 1 cup flour, 1 tablespoon cornstarch, 1 1/2 cups cold seltzer/club soda and 1/2 teaspoon salt in a bowl. Continue with instructions above. 
Tried this recipe?
We'd love you to rate it above under 'rate this recipe' or in the comment section below. Thanks!