Glazed Sweet Potatoes with Pecans
The combination of pure maple syrup, fresh lime and toasted pecans elevate these glazed sweet potatoes to a wickedly good side dish.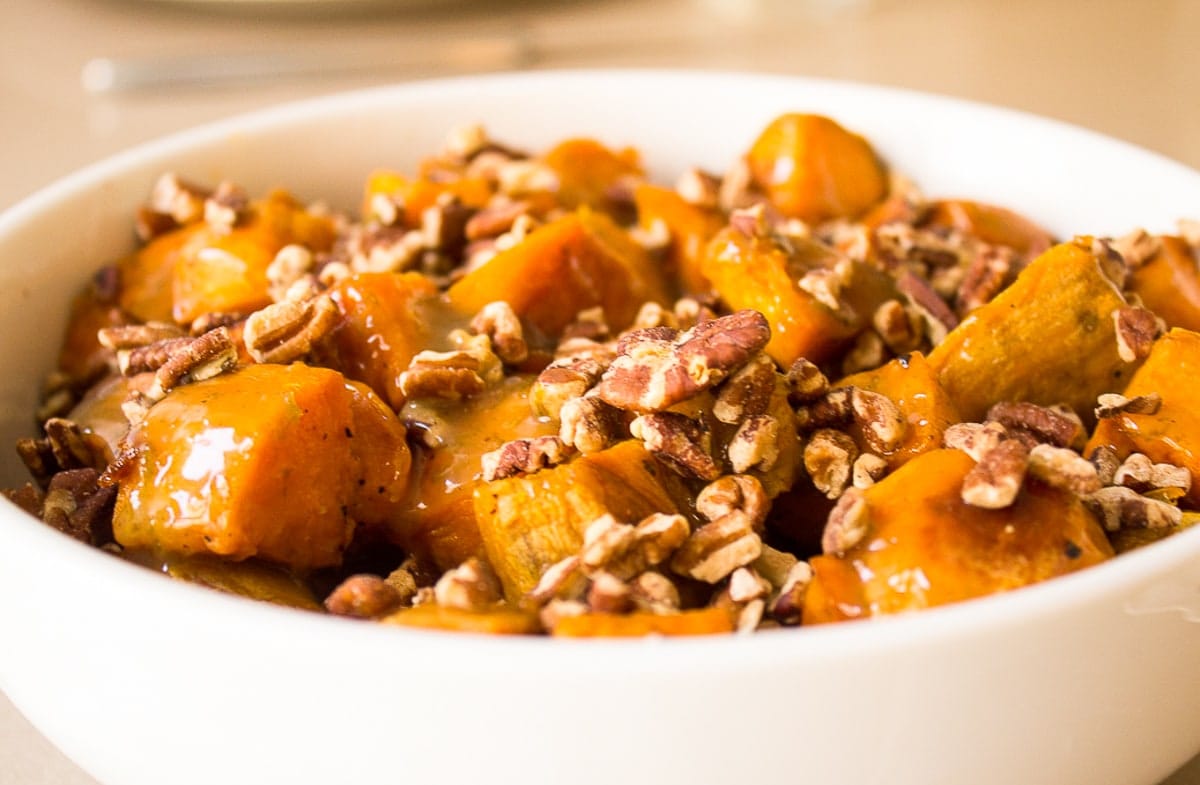 This easy side dish – a version of candied sweet potatoes – is a snap to make, it can be made ahead and has a nice balance of sweet-tangy and creamy-crunchy. The beautiful colors make for an impressive buffet or potluck dish.
I love the combination of lime and maple syrup. And the fact that the dish only takes 30 minutes to put together is pretty attractive too.
So is this glazed sweet potato recipe healthy? Well, it does have some sugar of course. But it also boasts a few big upsides. Pecans rank among the top 15 foods with the highest levels of antioxidants according to the USDA, not to mention a ton healthy vitamins, minerals and good [monosaturated] fats. And sweet potatoes are rich in fiber, vitamin C and vitamin A and a good source of antioxidants as well.
Glazed sweet potatoes with pecans are a perfect accompaniment for ham, turkey, roast chicken or brisket. I serve them with sous vide turkey breast, roast chicken breast or marinated pork chops. In our family, they're a must for Thanksgiving dinner.
Tailor To Your Taste
Substitutes

Instead of pecans, use toasted hazelnuts or walnuts.
Use brown sugar instead of maple syrup. You might want to add a little extra butter.
Use lemon instead of lime.

Add a pinch of nutmeg or cinnamon (about 1/4 teaspoon or to taste).
I love lime, but the other Kook suggests you start with a little less and add more to your taste.
For a different flavor, add some cumin or grated orange zest.
Shortcut
Buy pre-cut and peeled sweet potatoes.
Make Ahead
The whole dish can be assembled ahead of time or even a day ahead, then reheated in the oven at 375F.
Other easy sweet potato recipes you might like
How to make glazed sweet potatoes with pecans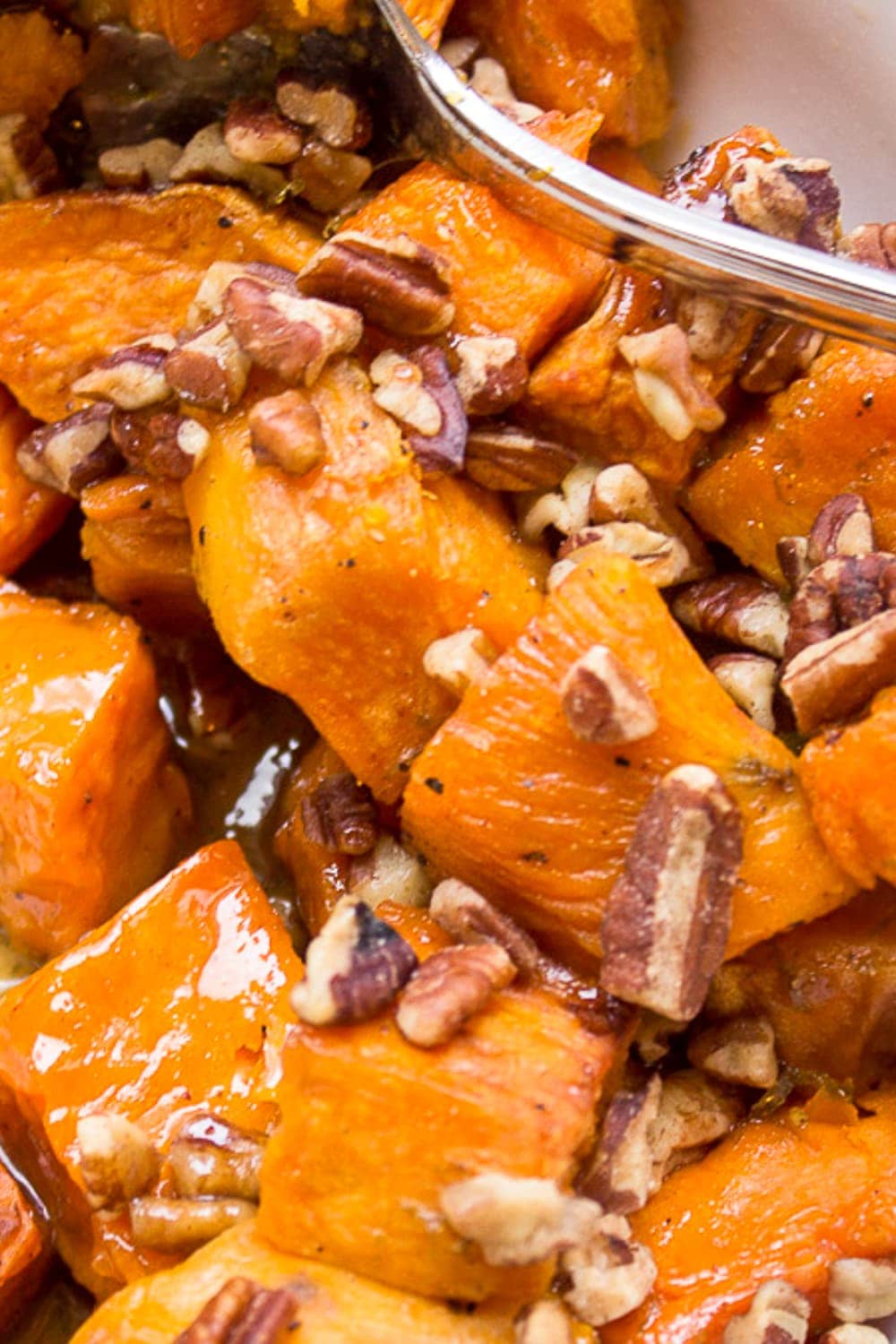 Glazed Sweet Potatoes with Pecans
The combination of pure maple syrup, fresh lime and toasted pecans elevate these glazed sweet potatoes to a wickedly good side dish.
Servings:
6
(or 4 larger servings)
Ingredients
2

pounds

sweet potatoes (2 large), peeled and cut into 1-1 1/2 inch pieces

1 1/2

tablespoon

olive oil

1/2

teaspoon

salt

1/4

teaspoon

pepper

1/3

cup

chopped toasted pecans (Note 1)
Maple-Lime Glaze
6

tablespoon

pure Maple Syrup

1

medium lime, juice and zest

1

tablespoon

butter

1

teaspoon

cornstarch

Optional: 1/4 teaspoon nutmeg or cinnamon
Instructions
Preheat oven to 425F.

ROAST SWEET POTATOES: Place sweet potato pieces on a pan that is lined with foil and sprayed with oil. Toss with oil, salt and pepper. Roast for about 20-25 minutes, turning half way through, until potatoes are tender and edges begin browning.

MAKE MAPLE-LIME GLAZE: While potatoes are roasting, combine all glaze ingredients in a microwave bowl. Microwave on high for 1 minute. Stir.

ASSEMBLE: Place roasted sweet potatoes in a serving bowl. Drizzle maple-lime glaze over potatoes. Toss to cover evenly. Sprinkle toasted pecans on top. And extra lime zest if desired. Serve. 
Recipe Notes
To toast pecan pieces, place on tray in preheated oven at 350F for about 6-7 minutes until aroma is evident and nuts are lightly toasted. Let cool to crisp up. 
To make ahead: Roast sweet potatoes and make the maple lime drizzle ahead of time. Before serving, assemble potatoes, drizzle over maple lime sauce and sprinkle with pecans. Heat in 375F oven for 10-15 minutes. Or in the microwave on High for about 2 minutes. 
Nutrition values are estimates. 
Nutrition
Calories:
279
kcal
|
Carbohydrates:
46
g
|
Protein:
3
g
|
Fat:
10
g
|
Saturated Fat:
2
g
|
Cholesterol:
5
mg
|
Sodium:
296
mg
|
Potassium:
591
mg
|
Fiber:
5
g
|
Sugar:
19
g
|
Vitamin A:
21510
IU
|
Vitamin C:
7
mg
|
Calcium:
75
mg
|
Iron:
1
mg
Tried this recipe?
We'd love you to rate it above under 'rate this recipe' or in the comment section below. Thanks!