With American Thanksgiving and Christmas/Chanukah quickly approaching, we have selected a few of our favorite Easy Make Ahead Appetizers from our collection to take some stress off and give you more time to enjoy your guests. The appetizers take only 10-30 minutes to prepare and most are vegetarian. Also check out our our original Easy Make-Ahead Appetizers and Easy Appetizers to Impress posts.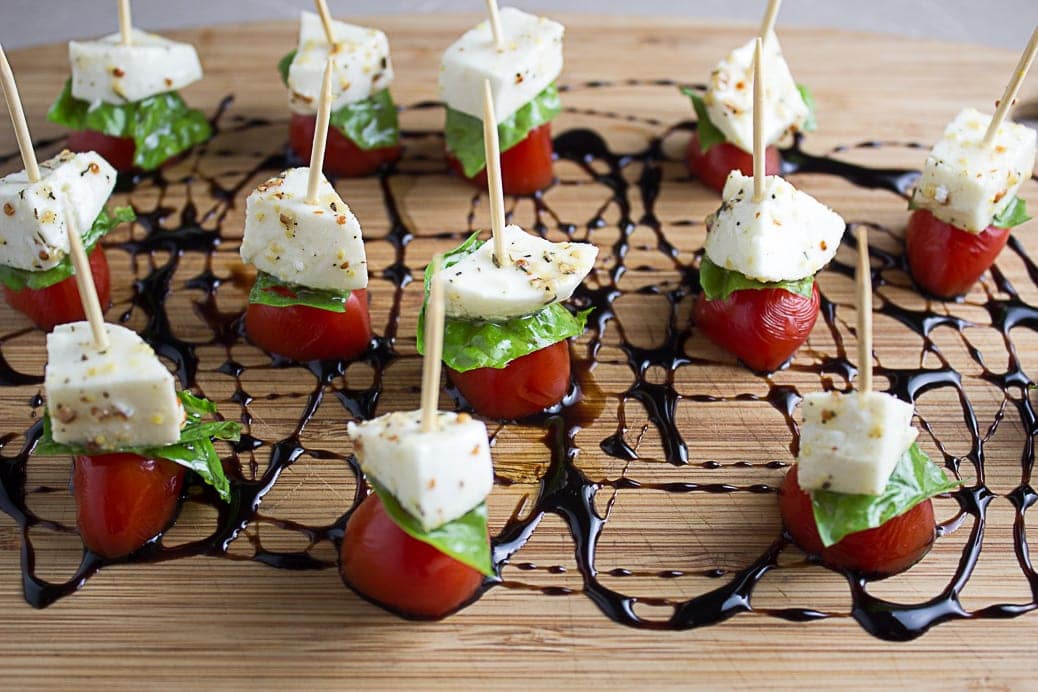 One of my tried-and-true favorites is freshly squeezed orange juice served in mini plastic shot glasses that I buy at the dollar store.
Another is a creamy soup served in shot glasses or espresso cups. I put the soup in a coffee thermos an hour or two ahead and forget about it until serving time.
Below are 10 more easy make-ahead appetizers. Enjoy the holidays!
_______________________________________________________________________
Mini Caprese Appetizers (20 minutes)
We boosted the flavor of these mini caprese appetizers with a marinade and a drizzle of balsamic reduction. A couple of shortcuts make them even more appealing if you're short on time. And how cute would they be for Christmas! Vegetarian.
Panko-crusted Lemon Garlic Shrimp (22 minutes)
Hard to go wrong with plump shrimp topped with a buttery crunchy panko topping. Yum.
Cheese Twists Appetizer (30 minutes)
This is a go-to for us during holidays. Flaky, crispy, cheesy, melt-in-your-mouth bites that satisfy those carb cravings.  They are not new, but they are very popular with guests and amazing dunked in the Creamy Tomato Soup below or any soup for that matter.  Vegetarian.
Stuffed Mini Peppers With Goat Cheese (20 minutes)
For company, I serve these on a cutting board with a dramatic drizzle of balsamic reduction. These little one-bite gems are delicious, even with a few good shortcuts.
Gnocchi Au Gratin (22 minutes)
I love being able to make the whole gnocchi with cheese sauce a few hours ahead and bake/broil it when guests arrive. Creamy, cheesy and popular.
Melted Olive Cheese Appetizers (20 minutes)
This is one of the most popular appetizers on our site. It's not upscale, not fancy, not foodie-esque.  Just super tasty and pretty on the plate.  The blend of salty tangy olives with the cheddar, green  onions and curry works really well.   Even non-olive lovers love these apps. Vegetarian.
Loaded Endive Ricotta Appetizers (10 minutes)
These appetizers are super light and easy to make. They're like little jewels with their beautiful contrasting colors, textures and flavors. And the variations are endless. We've listed several topping options for you in the post. Vegetarian.
Quick Shrimp Picatta (20 minutes)
Buying pre-peeled deveined shrimp makes this dish super quick. It's a lemony, garlicky, buttery classic and a nice change from shrimp cocktail. Serve straight from the skillet on a trivet  with toothpicks if you like. If you plan to rewarm the shrimp, undercook them to start with so they don't get rubbery. They only take a few minutes to cook.
Dumpling Lettuce Wraps (20 minutes)
Obviously to make these quick and easy, you have to buy frozen or fresh dumplings.  Most mainstream groceries carry them now.  Simple and versatile. They can be served room temperature. Or make everything ahead, warm the dumplings and assemble the wraps just before serving. Can be vegetarian. 
Creamy Tomato Soup with Cheese Croutons (23 minutes)
Classic, pure Fall/Winter comfort food. Serve the soup in mini or espresso cups with a fresh crouton stick or the Cheese Twists above. You might have to thin the soup a bit with water or broth. Other good options for appetizer soups are Squash Sweet Potato and Mandarin Soup and Thai-Inspired Butternut Squash Soup, also served in espresso cups. Vegetarian.
For other easy appetizer ideas, check out  our Easy Appetizers to Impress and our original Easy Make-Ahead Appetizer posts.
This post has been updated for the holiday season.